Many people joke that China's auto industry is developing rapidly because car prices are much cheaper than house prices in China.
With the continuous demand of the world's largest auto market, the production capacity of automakers is increasing. At present, China's auto production has reached about 25 million cars. In the current economic downturn, many traditional manufacturing industries are eliminating backward production facilities, and the curve of auto production continues to rise.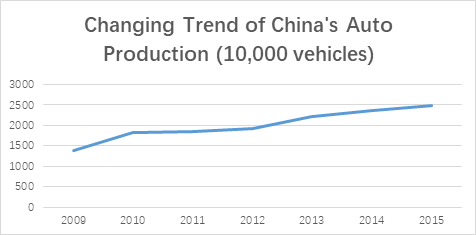 Source: Statistics Bureau (same below)
For environmental protection companies engaged in industrial three waste treatment services, this curve is quite important; it also indicates the increasing demand for environmental services from auto manufacturers.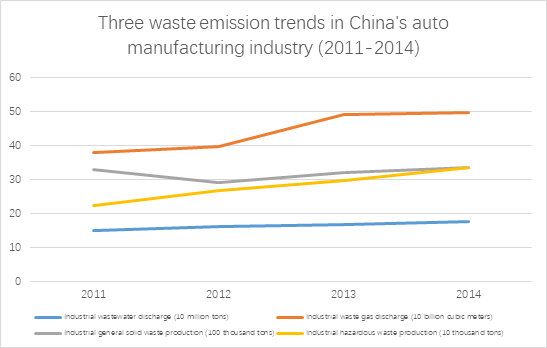 The three-waste emission curve of China's auto manufacturing industry in recent years can describe intuitively the increasing environmental demand. In addition to the decline in general solid waste production in 2012, all three-waste production has continued to increase at a considerable rate.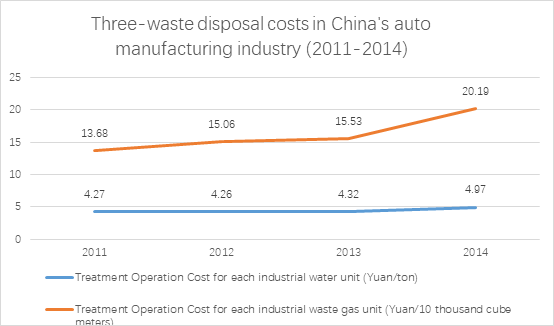 It is worth noting that the treatment operation cost of unit pollutant disposal also continues to rise. This means that the added value of environmental services for automakers is constantly increasing.
In addition, due to the coating process, the auto manufacturing industry is subject to special regulations for the emission of VOCs pollutants (national and local special emission standards). VOCs emissions are the focus of air pollution control in the "13th Five-Year Plan" period. With the establishment of VOCs fee collection system, the VOCs governance market for auto manufacturing has opened.
One of the basic facts that Umore Cleantech Consulting has repeatedly mentioned in research articles is that under the influence of various factors, China's industrial three-waste discharges and conventional pollutants such as COD and sulfur dioxide have actually declined in recent years. In other words, for most industrial sectors, the incremental market of three-waste treatments has come to an end.
By contrast, there is sweeping potential for auto manufacturing companies to become more and more important for environmental protection companies. For the development of the environmental protection industry, "strategy" has become a new dimension of competition between companies. Although the authors do not like the concept of the opportunist, seizing customers in this rising market is undoubtedly the forward-looking strategic measure for environmental protection enterprises to maintain their own development and competitiveness.