Introduction: 2016 was a year in which the international political and economic situation was constantly changing. In this year, a clash broke out between the globalization and anti-globalization in the world. Under the circumstances, did this affect the internationalization strategy of China's environmental protection industry? How many overseas M&A targets did Chinese companies obtain in 2016? And what is the industrial trend implied by the overseas M&A cases in 2016? To answer these questions, Umore Cleantech Consulting has deeply analyzed the major overseas M&A cases and prospected the industrial trend from 4 aspects.
According to the statistics report of Umore Cleantech Consulting, Chinese environmental companies made 14 major cases of overseas M&A in 2016, totaling over 16 billion Yuan. By comparison, the report showed that Chinese environmental companies also made 14 overseas M&A cases in 2015, but only 5.51 billion Yuan in total. Among the 14 major M&A deals in 2016, Beijing Enterprises Holding Limited purchased German EEW, the leading company of garbage power, with over 10 billion Yuan, which is the biggest one. At the beginning of 2016, China Tianying Inc. also participated in this bidding, but failed. However, China Tianying Inc. was still interested in overseas M&A and found Urbaser, the largest waste disposal company in Spain, as a new M&A target in mid-2016. Therefore, it can be clearly seen that with the number and money amount of overseas M&A deals and the enthusiasm of environmental protection enterprises, China's environmental protection industry was not greatly affected by anti-globalization movement.
Table: Summary of Overseas M&A Cases by Chinese Environmental Protection Companies in 2016
From 2016 overseas M&A cases of environmental industry, Umore Cleantech Consulting summarized the four Outlooks:
Outlook #1: The benefit of overseas M&A appears.
In 2016, Techcent Environ. became a typical example of Chinese purchasers with a "Triple Attack of Overseas M&A". In fact, Techcent Environ. has completed 4 overseas M&A cases since Techcent Environ. was listed in 2014. For its first overseas M&A, it acquired the 45% equity of Germany CNP Co., Ltd., and had the global patented technology of sludge digestion and phosphorus removal. Then, Chengdu Techcent Environ. spent US$62.4 million to purchase Centrisys, an American Stalls of Sludge Treatment Equipment Company. In February of 2016, it invested 200 million Euros in BWT M&A deal, the German Water Treatment Technology Co., Ltd., in order to form an industrial chain to operate overseas water treatment projects and equipment. This time, Techcent Environ. purchased Germany's second-largest waste giant ALBA's China business and developed its business to the solid waste management industry. It gradually completed the company's transition from heavy equipment manufacturing provider to global environmental protection integrated service provider. From the company's annual report, the company achieved 494 million Yuan revenues in 2015, with an increase of 23.66% year-on-year growth. Its overseas revenue was 115.2624 million Yuan, accounting for 23.34%, with an increase of 55% year-on-year growth. In the first half of 2016, the total revenue was 316.737 million Yuan, with an increase of 61.54% year-on-year growth. The total revenue for the same period of the previous year was only 196.07 million Yuan. Due to the integrations of CNP, Centrisys and other subsidiaries, the revenue of Chengdu Techcent Environment Co.,Ltd. has changed greatly.
Outlook #2: Nearly half of the companies have implemented several overseas M&A.
According to statistics, there are currently 17 listed environmental companies that have overseas M&A experience. Among them, seven companies have implemented more than one overseas M&A. On the one hand, in the process of overseas M&A, the Chinese company could not only improve its popularity and international brand image, but also penetrate into the industry dynamics to find high quality overseas assets of leading technology. On the other hand, after a successful M&A, the value of overseas M&A targets gradually emerged, and the financial return was high and stable, which could bring real benefits to the company. This is the fundamental motive force for the domestic enterprises to initiate overseas M&A.
Listed companies, which have ever made several overseas M&A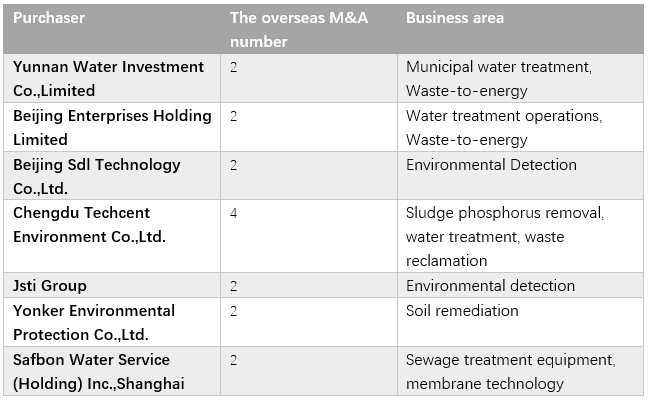 We put the M&A case, Yonker Environ. intending to acquire MC2, into the statistical scope here.
Outlook #3: Continuously expand the new environmental market through the M&A of specialized foreign companies
The field of soil remediation is emerging as a new environmental market in China. The most prominent company that conducts overseas M&A in this area is Yonker Environ.. The initial business area of Yonker Environ. was atmospheric pollution control. With the release of the "Soil Pollution Prevention Plan" in China, the company began to focus its business strategy on soil remediation. In 2015, Yonker Environ. purchased American IST Corporation, which was the first overseas M&A case in the field of soil remediation in China. This case opened the soil remediation chemical market for Yonker Environ… According to the company's 2015 annual report, the soil remediation business increased by 166.81 %( year-on-year growth). Now the company has undertaken several various types of soil remediation projects. On October 24th, 2016, Yonker Environ. announced that the company planned to invest $300,000 to acquire about 51% shares of Canadian MC2 company and introduced ET-DSPTM which is a unique and innovative thermal remediation technology, in order to dominate the domestic soil remediation market. MC2 has engaged in electromagnetic and petroleum reservoir engineering since 1995. From 1997 to 2001, MC2 developed rapidly through a series of patented technologies of ET-DSPTM. As an expert in electric heating and soil vapor extraction technology, MC2 applied this technology to the field of soil remediation. ET-DSPTM is the abbreviation of the Electro-Thermal Dynamic Stripping Process Normal remediation period of this mature technology is 3-8 months, which is more rapid than other technologies. There are currently 60 overseas remediation projects using this technology. Automated monitoring and operation can be implemented through the web interface. With this overseas M&A, technical shortcomings in the field of soil remediation can be further supplemented for Yonker Environ..
Outlook #4: With M&A of International Noise Industry Leader Company, New Third Board Companies First Stand on the Overseas M&A Stage
In the four major fields of environmental protection, Greentec completed the first case of overseas M&A in the noise field in China. In December 2015,Greentec was listed on the New Third Board. Three months later, it completed the first overseas M&A as a New Third Board company. Greentec took a 100 percent shares at a price of less than 750 Euros in IAC, the world's largest noise control products and acoustic test equipment supplier. And up to now, the benefit from this overseas M&A should still not be overlooked. Since the M&A of IAC at the beginning of 2016, its revenue in the first half of 2016 reached 107 million Yuan, with an increase of 38.15% year-on-year growth, mainly due to the revenue of IAC's international business included in the company's operating income. This is also a reference for the New Third Board companies to achieve the company's expansion through overseas M&A.
Summary
In conclusion, from the number and money amount of M&A in overseas 2016, the global anti-globalization trend has not significantly affected the enthusiasm of the Chinese environmental protection industry for overseas M&A. With the improvement of environmental emission standards, the tightness of supervision and the intensification of competition, China's environmental protection enterprises will need overseas technology, sales channels and markets now and in the foreseeable future. For the overseas M&A in the coming year, Umore Cleantech Consulting believes that as the overseas environmental M&A targets of developed countries continue to be in the competitive bids, with the SMEs participating in the game of overseas M&A, the potential environmental markets and targets of developing countries may become the new focus.