▍Overview
Since the Action Plan for Prevention and Control of Soil Pollution was issued in 2016, the Chinese remediation market has been developing at a rate beyond people's imagination. On top of the seemingly positive prospect, the fierce competition in this new market also intrigued us. Thousands of players fought to enter this emerging market, worth approximate CNY 100 billion during the 13th Five-Year Plan period, that quickly turned it into a red ocean market. However, this is not news as it is actually a typical phenomenon in the Chinese business world. As we call it, where there's meat there will be a wolf.
We shortlisted 115 most representative companies out of thousands in total and divided them into 26 categories according to their core business, size and characters. Finally, a complete remediation industry database, composed of 115 companies'wide range of industry information, was established.
(In this version of the report, we only provide an introduction of 8 key enterprises. If you are interested in other companies, please contact us.)
▍Key Features
(1) A highly informative industry database of up to 115 Chinese soil restoration companies
(2) For each company, a thorough study was carried out, including the company history, core competences, technology, etc
(3) The data covers the entire industry chain, and companies of all sizes are included in the analysis
▍Sample Chapter
Company 1:CECEP DADI Environmental Remediation Co., Ltd.
Headquarter: Beijing

Year Founded: 2012
Listing: Non-listed
Total Employees:100+
Employees Specialized in Remediation: 100+
Registered Capital: CNY 100 million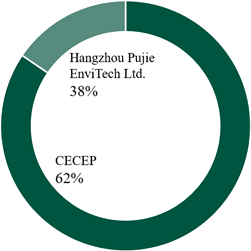 Major Shareholders:
China Energy Conservation and Environmental Protection Group (CECEP) (62%)

Hangzhou Pujie EnviTech Ltd. (38%)
Main Partners:N/A
Core Technology:
Thermal Desorption

Chemical Oxidation
Number of Patents(redediation-related patents only): 20 (8 inventions, 7 utility models and 5 pending).
Note: here we include 7 patents from Hangzhou DADI Environmental Protection Engineering Co., Ltd.

Core Advantages:
As the portfolio company of state-owned enterprise, CECEP group which owns controlling interest and supports in many ways.

Pioneer in the market to acquire ample project experience and technical team.

Constructor of national contaminated sites and ground water remediation technology center, which is authorized by the Ministry of Environmental Protection of the People's Republic of China.
Economic Performance:

Revenue of remediation projects in 2016: N/A | Percentage of total revenue: N/A

Total number of projects in soil remediation up to 2016:N/A
Case Studies:
In situ soil remediation project at an old factory site of Nantong Xingchen Synthesize Material Co. Ltd (remediation for organic solvent contamination)

Soil remediation project of Hangzhou asphalt mixing plant's decommissioned sites (remediation of heavy metals contaminated soils)

World Bank PCB management and disposal demonstration project (POPs disposal and management demonstration project)

Soil remediation project of Hangzhou Qingfeng Agrochemical Co., Ltd.'s decommissioned site.
History&Background:

The name of CECEP DADI Environmental Remediation Co., Ltd. was inherited from the predecessor company, Hangzhou DADI Environmental Corporation. CECEP DADI was founded in 2006, specializing in solid waste (hazardous waste) disposal. In the same year, the company undertook the PCB management and disposal demonstration project from the World Bank and started a thorough investigation of PCBs storage sites in Zhejiang province. Meanwhile, the company built the stations for PCB thermal desorption treatment and cleaned up contaminated sites by transporting contaminated soil. Since 2009, the company started to use indirect thermal desorption technology to eliminate PCBs from PCB-contaminated soil. The PCB thermal desorption treatment station built under this project is the first successful demonstration of the long-term stable operation of its kind. It also paves the path for CECEP DADI's soil remediation practices. Serving as the national POP disposal center, DADI subsequently undertook the demonstration project for alternatives to chlordane and mirex in termite control. In 2012, DADI won the bid of the remediation project for the notable Hangzhou Qingfeng Agro-Chemical contaminated site. In this project, the first large-scale soil vapor extraction technology was implemented (also known as Hangzhou Pesticide Plant "gas tent'. In this project, soil vaporextraction and thermal desorption technologies were mainly used according to Jereh Group. Jereh and its partner company, West Mountain Environmental (Shanghai) provided technology support for these projects.). Following that, DADI undertook projects including a soil remediation project for an old facility site of Nantong Xingchen Synthesize Material Co. Ltd., a soil remediation project of a decommissioned asphalt mixing plant in Hangzhou, etc.
In 2012, Hangzhou DADI Environmental Corporation received interest from CECEP group, a large state-owned company. These two parties founded a joint venture, namely CECEP DADI Environmental Remediation Co., Ltd. CECEP group and Zhang Wenhui, the chairman of Hangzhou DADI, own 62% and 38% of equity, respectively. CECEP DADI became the only environmental remediation business platform in CECEP group. CECEP DADI has its headquarters in Beijing and responsible for the national market, while Hangzhou DADI provides direct technical support. Hangzhou DADI retained its management members and changed its name to CECEP DADI (Hangzhou) Environmental Remediation Co., Ltd., responsible for business in Yangtze River Delta. Supporting by the stated-owned company, CECEP group, DADI became the government's favor. In May 2013, DADI participated in the "research on monitoring and early warning system of groundwater pollution and emergency response technology" and "research on investigation into pollution at industrial sites and inventory management of potentially polluted sites." Also, DADI obtained the approval of "2014 National Environmental Nonprofit Industrial Research Project". In June, DADI was entrusted by the Ministry of Environmental Protection of the China to build a national research platform for contaminated site remediation, National Environmental Protection Technology Center for Remediation of Contaminated Industrial Sites and Groundwater. After that, CECEP DADI successfully built its reputation and attracted more project opportunities. More than 70 projects have been completed. There is a saying in the environmental market that "there is BCEER in the north, and DADI in the south." (At this time DADI should include Hangzhou DADI and Jiangsu DADI.)
However, in the past two years, the CECEP DADI has hit bottleneck. Rumors are flying. One widely-discussed is that, since 2015, Dr. Jining Chen, the President of Tsinghua University took the seat of the Minister of Environmental Protection. Dr. Qing Hu, the wife of Chen, resigned from her chairwoman role with CECEP DADI, to avoid interest conflicts. After that, for some reason and its rigid management style, the company suffered from the brain drain. CEO Xie Hui was one of the example.
Market Positioning:
Compared to BCEERCECEP DADI is more closely related with state-owned company, CECEP. Although the company does not own many patents, for the reason of being supported by the national environmental remediation research platform, it can never be belittled. With its strong background and Hangzhou DADI's in-depth experience in project development, it occupies an important position in the market. Although their performance has been dwindling in the past two years, we still cannot underestimate its potential.
Future Outlook:
Affiliated with a state-owned company, CECEP DADI has sufficient funding and maintains a good relationship with the government. The future performance is expected to be improved. We should pay attention to whether CECEP DADI can have significant improvement in their organization structure and function in order to make itself great again. In addition, with strong capital position, the parent company, CECEP might bring in new technologies through another round of acquisition to strengthen DADI's competencies.