Large market with low disposal rate
Hazardous waste refers to waste that is dangerous to human beings, according to the definition by Brand-new National Hazardous Wastes Catalogue and Identification Standards for Hazardous Wastes. From the statistical data we can find that there are three features of hazardous waste: 1) Industrial hazardous waste is the main source, which accounted for more than 70% of all hazardous waste production, followed by medical waste, which accounted for about 14%. 2) Industrial hazardous wastes mainly come from chemical raw materials and chemical manufacturing, non-metal mining, non-ferrous metal smelting, and papermaking industries. 3) Industrial hazardous waste types are mainly asbestos waste, spent acid spent alkali, metal smelting waste, and inorganic cyanide waste.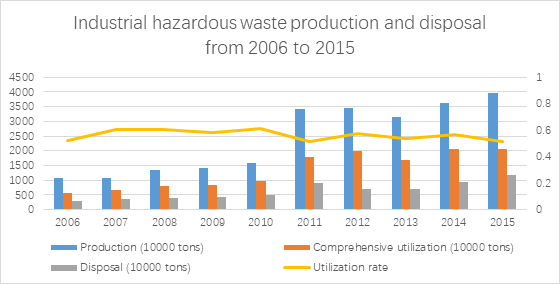 Source:Ministry of Environmental Protection PRC
According to official statistics of the Ministry of Environmental Protection, China's industrial hazardous waste generation reached 39.761 million tons in 2015, an increase of 9.43% year-on-year. The comprehensive utilization was 204.97 million tons and the disposal was 11.740 million tons. In fact, due to the existence of non-uniform statistics, small-scale disposal plants that do not effectively report data, and so on, the actual production of hazardous waste in China is far more than the amount of data shown. Based on the experience of developed countries, industrial hazardous wastes generally account for 3-5% of industrial wastes, so 80 million tons of production volume is a referable value.
As of 2015, the approved operation scale of the national hazardous waste business units reached 52.63 million tons/year, while the actual operating scale was only 15.36 million tons, corresponding to a ratio of less than one-third, and there was still a large gap in hazardous waste disposal.
High profit level
Hazardous waste disposal is a highly profitable industry. The cost of hazardous waste treatment in China is between RMB 1,000-3,000/ton, while the charging standards are mostly concentrated at RMB 3,500-4,000/ton. According to research data of the E20 platform, the gross profit rate of listed companies in China's A-share solid hazardous waste disposal business in the past five years reached 40%-50%, and the net interest rate is about 20%-30%. For companies, access to the market basically means new growth points.
According to the prediction of China Industry Information Network, by 2020, the total output value of the hazardous waste market in China will reach 186.734 billion yuan, which is more than double the 92.84 billion yuan reached in 2015.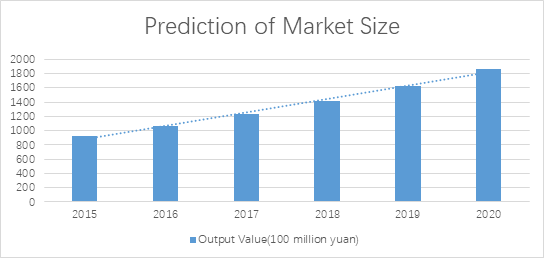 Source: China Industry Information Network
The role of policies and regulations
The hazardous waste treatment industry is a legally managed and policy oriented industry. China's hazardous waste industry legislation does not exceed ten years and has developed rapidly in the past five years. In 2016, the" 13th Five-Year Plan for Eco-Environmental Protection", the "Soil Ten ", the "Brand-new National Hazardous Wastes Catalogue" and the amended "Environmental Pollution Prevention and Control Law of Solid Wastes" were introduced, which made the hazardous waste treatment start to boom. Among them, "Chapter Four Special Regulations on the Prevention and Control of Environmental Pollution from Hazardous Wastes" of the "Environmental Pollution Prevention and Control Law of Solid Wastes" is a special clause for hazardous wastes, and also a basic provision on hazardous chemicals management. In addition, industrial hazardous waste aggravates soil pollution. "Soil Ten" has put forward higher requirements for soil quality, so the source of soil pollution will be strictly controlled and the hazardous waste treatment industry will have better prospects.
High technical barriers, few players in the market
With the increase in the amount of hazardous waste generated in the country, the need for treatment is also growing. Therefore, more and more hazardous waste management licenses have been issued by the country. As of the end of 2015, a total of 2034 hazardous waste business licenses have been issued in various regions (this includes medical waste).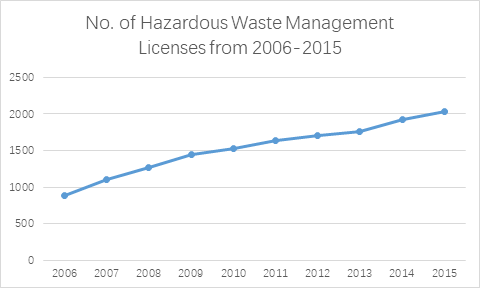 Source: China Ministry of Environmental Protection
Parties engaged in the collection, storage, and disposal of hazardous wastes in China must have a hazardous waste management license. Hazardous waste generally has corrosive, toxic, and other hazardous characteristics, so the requirements for technology are relatively high. The general investment scale for hazardous waste disposal projects is large, the equipment price is high, and the current domestic hazardous waste treatment technologies and treatment methods are lagging behind. Thus, companies that want to enter this industry require higher qualifications in terms of capital, technology, and talent. From a nationwide perspective, there are many market participants, but the overall scale and production capacity are very small, and there are fewer companies with core competitiveness. As shown in the attached table, the top ten companies' design processing capacity in 2015 accounted for only 6.8% of the total domestic design processing capacity. The hazardous waste industry still lacks leading enterprises, and the phase-out consolidation of the industry needs to be accelerated.
Top 10 Companies' Design Processing Capacity in 2015